Chandler is a city in Maricopa County, Arizona, and is a prominent suburb of the Phoenix, Arizona, Metropolitan Statistical Area. It is bordered to the north and west by Tempe, to the north by Mesa, to the west by Phoenix, to the south by the Gila River Indian Community, and to the east by Gilbert.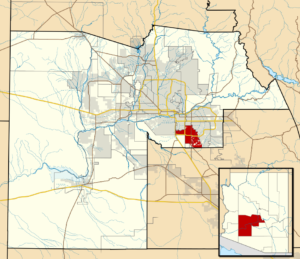 Maricopa County and City of Chandler
From its founding, Chandler has been a community built on entrepreneurial spirit, innovation and hometown traditions.  These elements help attract the a mixture of diversified industries and quality finance and retail establishments like Intel, Orbital, Microchip, Wells Fargo, Bank of America, Verizon, Basha's, etc.  In the last 10 years, the city has added nearly 100,000 young, educated, and affluent people to its population.
Demographics Overview:
Aug. 1, 2016 Population – 248,244
Aug. 1, 2016 Housing Units – 101,604
Average Household Income: $83,296
Median Home Price:
New Home – $267,550
Resale Home – $188,575
Median Age: 31.7
Current Demographics
Chandler's current estimated population: 248,244, as of Aug. 1, 2016
Source: Long Range Planning Department
 Median age: 34.9
Source: ESRI Business Analyst 2016

Source: ESRI Business Analyst 2016
Courtesy City of Chandler websites
* Nếu Bạn gặp trở ngại ngôn ngữ hoặc có câu hỏi, xin hãy gọi cho chúng tôi số 480-336-8752 để được giúp đỡ.