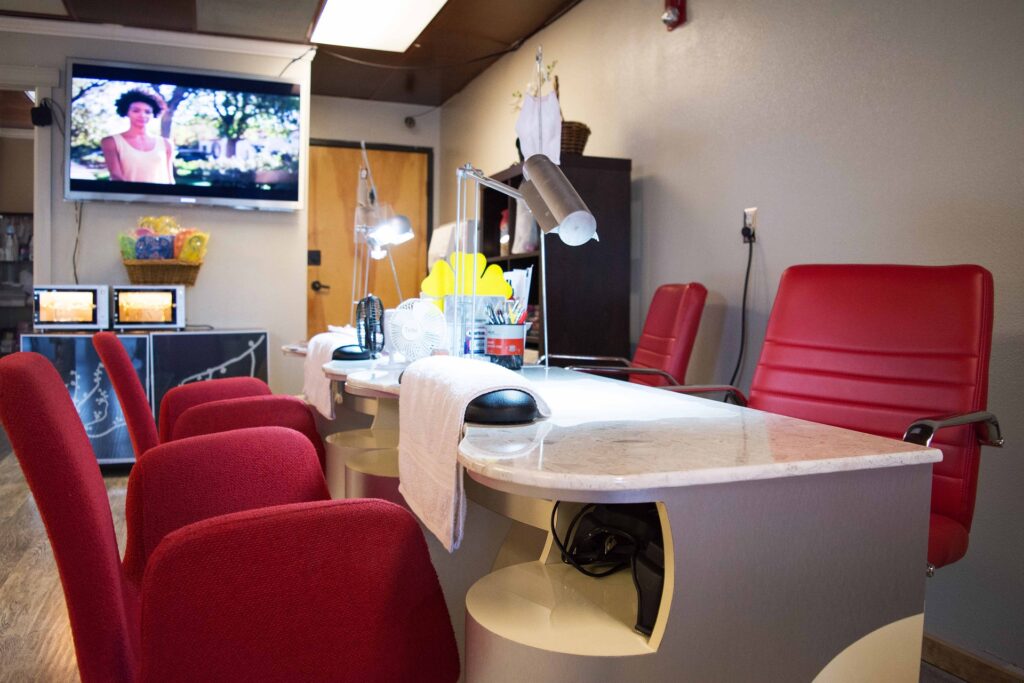 Khi những nhà đầu tư Mỹ nhúng chân vào nghành Nail, thì các bạn sẽ phải bắt đầu "chiến đấu" với những chuyên gia tốt nghiệp tại các trường học nổi tiếng như Hardvard, UCLA.
MiniLuxe là tên gọi của một hệ thống Nail Franchise của Mỹ được thành lập từ năm 2007. Cơ sở đầu tiên của họ được bắt đầu từ Boston và bắt đầu lan toả đến Texas . Trong năm qua 2015, họ đã kết hợp với nhà đầu tư và tạo ra số vốn lên đến 23 triệu, cho sự phát triển các cửa tiệm trong năm 2016 . Mục đích chính của MiniLuxe là muốn biến các tiệm MiniLuxe Nail thành Chuỗi tiệm Nail như hệ thống của Starbucks.
Cách thức kinh doanh tiệm Nail của họ chú trọng về Vệ Sinh bằng cách sử dụng các loại dụng cụ khử tiệt trùng cao cấp của nhà thương hay văn phòng nha sĩ là AutoClave Sterilizer. Điều chú trọng thứ hai là đào tạo, lập kế hoạch và phát triển nghề nghiệp cho nhân viên. MiniLuxe hiện nay có khoảng 200 nhân viên làm việc toàn thời gian và bán thời gina. Tất cả nhân viên đều có bảo hiểm y tế của công ty, lãnh lương giò, được nghỉ vacation, chia sẻ lợi nhuận và có luôn cả 401 (k).
Cũng bắt đầu từ một tiệm Nail như các bạn, nhưng qua cách tổ chức và điều hành, mục đích và tầm nhìn … Có thể nói, họ chẳng có gặp bất cứ vấn đề gì như: vi phạm luật lao động, sở thuế, thợ quậy, chia/tua chia phiên, thợ bao v.v. Họ dần đang khẳng định vị thế của họ, dù rằng giá phục vụ của họ khá cao. Ngược lại, thì cộng đồng Nail của chúng ta cứ tự hạ giá giết nhau… giữa thợ với chủ thì luôn xung đột. Nếu các bạn không biết đoàn kết và có một tần nhìn chung, thì mai sau này, bạn sẽ biết nếm mùi "thất nghiệp" như thế nào khi làm cho chủ Mỹ.
Đây là lời giới thiệu về "Đầu Não" của Miniluxe … Không những toàn những nhân vật xuất thân từ trường Đại học danh tiếng như Harvard, UCLA mà họ còn có cả một đội ngũ Bác sĩ tư vấn khá nổi tiếng …
Mai kia mốt nọ, nếu họ thành công thì ai dám coi thường nghành Nail nữa …
MiniLuxe is transforming the $10 billion nail, brow, and waxing industry. Our mission is to provide more than just nail and beauty care — we exist for our customers' "self-care." Our philosophy of self-care is built on the belief that by expertly delivering deeply caring personal service experiences we enable our clients to be ready and able to take care of themselves and everything else in life.
MiniLuxe fulfills our philosophy by exceeding our clients' expectations for quality, convenience, and value. Our list of industry-leading attributes is long: impeccable cleanliness and dedication to hygiene, craftsman-quality service, refreshing, healthy and comfortable spaces, above-board employment practices, and thoughtfully-integrated technology solutions, such as 24×7 online booking.
MiniLuxe currently has eleven locations in the greater Boston area and one in the Dallas area. The brand has won numerous accolades, including Best of Boston, Best of Dallas and has nationwide growth plans.
The MiniLuxe Executive Team
Tony Tjan – Chairman & Founder
Tony is CEO and Managing Partner of the Cue Ball Group, one of the primary investors in MiniLuxe. Tony has a successful track record as an entrepreneur, investor, and strategic advisor and is a World Economic Forum Global Leader for Tomorrow. He is a graduate of the Harvard Business School, and recently co-authored a best-selling book for entrepreneurs titled "Heart, Smarts, Guts and Luck".
Andrew Ervin
Andy serves as Senior Vice President of Finance & Administration for MiniLuxe. Andy most recently served as Principal at The Parthenon Group, developing growth strategies for clients in the retail and consumer goods industries. Andy is a graduate of the Tuck School of Business at Dartmouth College.
Tony Pino
Tony serves as Business Development Officer for MiniLuxe. He joined the company as a continuation of his seven years with Cue Ball, our largest investor. Tony began his professional career at Blackstone and is a graduate of Harvard College.
Board of Directors
Mats Lederhausen
After a long career as both a joint venture partner and senior executive of McDonalds Corporation, Mats formed his own private equity firm, Because, based on the philosophy of investing brand with a "purpose bigger than product". Mats had led and managed investments in well-known brands such as Chipotle Mexican Grill, Boston Market, RedBox DVD, and Pret-A-Manager.
Matt Cornue
Matt is the Chief Investment Officer for the Horowitz Group, a family investment office based in Southern California. Matt previously co-founded LendAmend LLC, a software company in the financial technology sector, which was acquired in 2013. He is also on the Board of Directors at Lemonade Restaurant Group. Matt is a graduate of Harvard College and the UCLA Anderson School of Management.
The Experts
A special group of advisors — from top podiatrists, to renowned doctors, architects, and beauty and fashion editors — stands behind the MiniLuxe leadership team. Their insights ensure that MiniLuxe continues to elevate nail and beauty care to the plane of self-care.
Dr. Carolyn Siegal
Dr. Carolyn Siegal is a successful podiatrist and CEO of Dr. Carolyn Collection, her company that distributes foot related products nationwide. She has been featured in many national publications as an expert in nail salon sanitation and various foot health issues.
Richard Dantas
Richard Dantas currently oversees Bliss in his capacity as Vice President, Strategy of Starwood Hotels and Resorts Worldwide.
David Hacin
David Hacin founded Hacin + Associates / H+A, an architecture and design studio located in the arts district of Boston's South End. H+A has helped build brands such as Fresh and A.T. Cross and has created the sets for a hit Bravo television show, Queer Eye for the Straight Guy.
Catherine Viscardi Johnston
Recently recognized as one of the 100 Most Influential Women in Business by Crain's New York Business, Catherine Viscardi Johnston has held a variety of executive positions at Condé Nast Publications, including Associate Publisher of Architectural Digest, Publisher of Mademoiselle, and Executive Vice President.
Dr. Ruth E. Tedaldi
Dr. Ruth Tedaldi, M.D. is one of the nation's leading dermatologists and is the founder of Dermatology Partners, Inc., in Wellesley, MA. One of the first local dermatologists to practice cosmetic dermatology in the spa setting, she has been widely sought out for her dermatological expertise by national and local media, including Harper's Bazaar, Self, Shape, Allure, Kiss 108FM and WHJJ 920AM. Dr. Tedaldi has been instrumental in defining MiniLuxe's skincare offerings.